Sergeant Steelwill is one of the three sergeants found guarding General Graardor in the Bandos section of the God Wars Dungeon, along with Sergeant Strongstack and Sergeant Grimspike. Sergeant Steelwill uses a magic attack with a max hit of up to 16 hitpoints.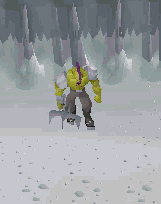 100% drop
Edit
Armour/Weapons
Edit
Godsword shards
Edit
Runes/Arrows
Edit
Rare drop table
In addition to the drops above, this monster also has access to the rare drop table.
References
Edit
↑ 2.0 2.1 2.2 The drop rate is 1/508 for any godsword shard, or 1/1,524 for a specific piece.(Source)
Ad blocker interference detected!
Wikia is a free-to-use site that makes money from advertising. We have a modified experience for viewers using ad blockers

Wikia is not accessible if you've made further modifications. Remove the custom ad blocker rule(s) and the page will load as expected.