Shrunk ogleroot
Release date
4 June 2007 (Update)
Members only?
Yes
Quest item?
Grim Tales
Tradeable?
Yes
Equipable?
No
Stackable?
Yes
High Alch
1 coin
Low Alch
0 coins
Destroy
Drop
Store price
Not sold
Exchange price

13

coins (info)
Buy limit
Unknown
Weight
0 kg
Examine
A shrunk ogleroot! How odd...
[view]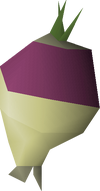 Shrunk ogleroot can be found in the witch's house in Taverley by playing the piano, as part of the Grim Tales quest.
If you need another one for Grim Tales, you can kill an Experiment No. 2 down the manhole near the entrance to the witch's house, or pick one up from the pile in the room with the experiments; assuming you've already used a shrink-me-quick potion once before to get into the mouse hole inside the witch's house.
This is the second ingredient of shrink-me-quick potion used during Grim Tales quest.
Dropping monsters
Edit
Ad blocker interference detected!
Wikia is a free-to-use site that makes money from advertising. We have a modified experience for viewers using ad blockers

Wikia is not accessible if you've made further modifications. Remove the custom ad blocker rule(s) and the page will load as expected.