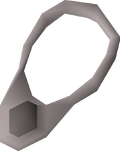 The Silver necklace is a quest item used in the Murder Mystery quest. It is obtained from a barrel in Anna's bedroom in the Sinclair Mansion during the quest. It has Anna's fingerprints on it and can be used to figure out if Anna is the murderer.
This item will disappear if a player has it in their bank or inventory upon finishing the quest. It is a unique cosmetic item, so if a player wishes to keep it, they must drop it before finishing the quest and pick it up again afterwards. It cannot be obtained again after the quest is finished.
Bonuses
Hover over image for type

A player wearing a silver necklace.
 Attack bonus
+0
+0
+0
+0
+0
 Defence bonus
+0
+0
+0
+0
+0
Other bonuses
Slot

list

+0
0
0%
+0
Crafted

 Gold •  Opal •  Sapphire •  Jade •  Emerald •  Topaz •  Ruby •  Diamond  Dragonstone •  Onyx •  Zenyte

Enchanted

 Dodgy •  Games •  Passage •  Binding •  Faith •  Digsite •  Phoenix •  Skills •  Berserker •  Anguish

Other

 Brass •  Clean •  Occult (or) •  'perfect' •  Silver •  Stolen family heirloom
Ad blocker interference detected!
Wikia is a free-to-use site that makes money from advertising. We have a modified experience for viewers using ad blockers

Wikia is not accessible if you've made further modifications. Remove the custom ad blocker rule(s) and the page will load as expected.