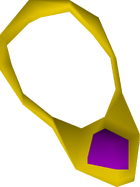 A Skills necklace is a dragonstone necklace that has been enchanted with the Lvl-5 Enchant spell. When charged, a worn skills necklace provides a slight increase to the chance of finding a casket whilst fishing with a big net.
The skills necklace can be recharged by using on the totem pole in the Legends' Guild giving it four charges, or on the Fountain of Rune in the Wilderness giving it six charges. Note that the player must have completed Legends' Quest to do so. Alternatively, the Recharge Dragonstone Lunar spell can be cast giving it four charges, requiring the Fremennik Hard Diaries to use.
Teleports
Edit
The necklace can carry up to four charges (six if recharged at the Fountain of Rune), each of which can be used to teleport to the entrances of one of five locations:
Like the other enchanted pieces of dragonstone jewellery, the teleports of a skills necklace can be used in up to level 30 Wilderness, instead of level 20, the normal limit for teleportation. However, the skills necklace, being a piece of jewellery that focuses on noncombat skills, gives no combat bonuses.
Bonuses
Hover over image for type
 Attack bonus
+0
+0
+0
+0
+0
 Defence bonus
+0
+0
+0
+0
+0
Other bonuses
Slot

list

+0
0
0%
+0
Crafted

 Gold •  Opal •  Sapphire •  Jade •  Emerald •  Topaz •  Ruby •  Diamond  Dragonstone •  Onyx •  Zenyte

Enchanted

 Dodgy •  Games •  Passage •  Binding •  Faith •  Digsite •  Phoenix •  Skills •  Berserker •  Anguish

Other

 Brass •  Clean •  Occult (or) •  'perfect' •  Silver •  Stolen family heirloom
Ad blocker interference detected!
Wikia is a free-to-use site that makes money from advertising. We have a modified experience for viewers using ad blockers

Wikia is not accessible if you've made further modifications. Remove the custom ad blocker rule(s) and the page will load as expected.