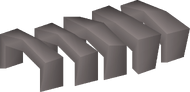 Skull staples are used by Dr. Fenkenstrain in The Great Brain Robbery quest along with a pair of brain tongs, bell jars and a cranial clamp. This equipment is used to perform brain transplants on the zombified monks in Mos Le'Harmless in order to restore them to their normal form. Strangely, if a group of skull staples are examined, the examine text will still be 'One skull staple'.
Characters

Brother Tranquility • Mi-Gor • Dr Fenkenstrain • Rufus • Monk • Zombie monk • Zombie pirate • Sorebones • Barrelchest

Items

 Prayer book •  Crate part •  Wolf whistle •  Wooden cat •  Shipping order •  Bell jar •  Brain tongs •  Cranial clamp •  Skull staple •  Fuse •  Keg

Rewards

Locations

Music

Related
Ad blocker interference detected!
Wikia is a free-to-use site that makes money from advertising. We have a modified experience for viewers using ad blockers

Wikia is not accessible if you've made further modifications. Remove the custom ad blocker rule(s) and the page will load as expected.