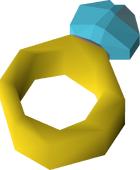 The Slayer ring (eternal) is a special slayer ring that gives unlimited teleport charges compared to the eight from a regular one.
Like the regular ring, making it requires level 75 Crafting (boosts work). Players must have the eternal gem, a gold bar, and a ring mould in their inventories and use the gold bar on a furnace to make the ring. Making a ring yields 15 Crafting experience, the same as an ordinary gold ring. A slayer ring does not need to be enchanted.
Players can obtain the eternal gem used to make the ring by killing superior slayer monsters, which are rare encounters unlocked after purchasing the unlock Bigger and Badder for 150 Slayer reward points from any Slayer master. The gem can also be purchased from other players or from the Grand Exchange. To make the ring, players must learn how to do so for a one-time cost of 300 points.
Standard

 Opal •  Gold •  Jade •  Topaz •  Sapphire •  Emerald •  Ruby •  Diamond •  Dragonstone •  Onyx •  Zenyte

Enchanted

 Pursuit •  Returning •  Efaritay's aid •  Recoil •  Dueling •  Forging •  Life •  Wealth (imbued) •  Stone •  Suffering (imbued)

Fremennik

 Archers (imbued) •  Berserker (imbued) •  Seers (imbued) •  Warrior (imbued)

Wilderness

 Treasonous (imbued) •  Tyrannical (imbued) •  Ring of the gods (imbued)

Other

 Beacon •  Charos (activated) •  Coins •  Easter •  Lunar •  Nature •  'Perfect' •  Slayer (eternal) •  Visibility
Ad blocker interference detected!
Wikia is a free-to-use site that makes money from advertising. We have a modified experience for viewers using ad blockers

Wikia is not accessible if you've made further modifications. Remove the custom ad blocker rule(s) and the page will load as expected.