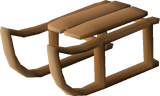 The sled is a device obtained and used during the Troll Romance quest. To make the sled, players must talk to Dunstan, who is to the east of Burthorpe Castle, in the house with the anvil. One must have the following in the inventory: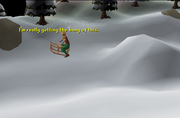 First, the player must speak to Dunstan to make the sled. Players must then use the swamp tar with the bucket of wax. The wax will then automatically go into their cake tin. Players should then use the wax with the made sled.
It is equipped when one needs to sled down Trollweiss during and after Troll Romance to get from the peak to near the southern base where the rare Trollweiss flower grows. Players can obtain a new sled by the same method. If lost, a new sled can be obtained from Dunstan in exchange for yew or maple logs, rope and an iron bar.
The sled is required to complete an elite emote clue scroll.
Bonuses
Hover over image for type

A player on a sled.
 Attack bonus
+0
+0
+0
+0
+0
 Defence bonus
+0
+0
+0
+0
+0
Other bonuses
Slot

list

+0
0
0%
+0
Ad blocker interference detected!
Wikia is a free-to-use site that makes money from advertising. We have a modified experience for viewers using ad blockers

Wikia is not accessible if you've made further modifications. Remove the custom ad blocker rule(s) and the page will load as expected.