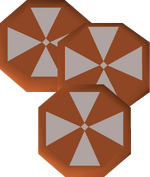 A Sliced red banana is made by using a knife on a Red banana. It is used to stuff the snake for King Awowogei in Recipe for Disaster. Eating it produces the message "You eat the sliced red banana. Yum." It also heals 2 hitpoints if eaten.
Subquest of Recipe for Disaster

Characters

Items

 Red banana •  Sliced red banana •  Tchiki monkey nuts •  Tchiki nut paste •  Snake corpse •  Raw stuffed snake •  Odd stuffed snake •  Stuffed snake •  Snake over-cooked

Locations

Music
Ad blocker interference detected!
Wikia is a free-to-use site that makes money from advertising. We have a modified experience for viewers using ad blockers

Wikia is not accessible if you've made further modifications. Remove the custom ad blocker rule(s) and the page will load as expected.