Snake weed is a herb found by searching a marshy jungle vine. It is dropped in grimy form by Jogres and Tribesmen. It is a secondary ingredient in herblore used with rogue's purse to make Relicym's balm potion. It is also used as second ingredient to make sanfew serum.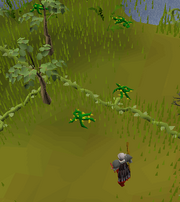 This herb is needed for the Zogre Flesh Eaters quest and Legends' Quest, therefore it is wise to take extras during Jungle Potion.
Twenty marshy jungle vines are found south-west of Tai Bwo Wannai in west Karamja. Located near the water, just north of the Horned Graahk. They are bright green in colour with yellow spikes around its vines.
Normal herbs

 Guam leaf (Grimy) •  Marrentill (Grimy) •  Tarromin (Grimy) •  Harralander (Grimy) •  Ranarr weed (Grimy) •  Toadflax (Grimy) •  Irit leaf (Grimy) •  Avantoe (Grimy) •  Kwuarm (Grimy) •  Snapdragon (Grimy) •  Cadantine (Grimy) •  Lantadyme (Grimy) •  Dwarf weed (Grimy) •  Torstol (Grimy)

Special herbs

 Ardrigal (Grimy) •  Bruma herb •  Doogle leaves •  Goutweed •  Rogue's purse (Grimy) •  Sito foil (Grimy) •  Snake weed (Grimy) •  Volencia moss (Grimy)

Chambers of Xeric
Ad blocker interference detected!
Wikia is a free-to-use site that makes money from advertising. We have a modified experience for viewers using ad blockers

Wikia is not accessible if you've made further modifications. Remove the custom ad blocker rule(s) and the page will load as expected.