Start point
Talk to Awusah, mayor of Nardah.
Official difficulty
Intermediate
Description
The people in the desert village of Nardah have a problem. Their town well has dried up and any water they try to bring back to the town from the river mysteriously disappears before they can get it back.

The villagers suspect they have been cursed in some way. Can you unravel what is going on and save the village?

Length
Medium
Requirements
Items required

Recommended:

Enemies to defeat
Walkthrough
Edit
Players must be on the standard spellbook to complete this quest (or have Spellbook Swap available).
Getting started
Edit
The Golems
Edit
Follow the River Elid north until you reach a cave with a waterfall coming out of it. (Eagle's Eyrie teleport on the Necklace of passage and go south-west)
(You can find bronze arrows south of the cave entrance and a shortbow to the east)
Use your rope on the root which overhangs the cave.
Equip the robes of elidinis and use the ancestral key on the door.

Note: If the door will not open, talk to Ghaslor the Elder and attempt to open it again afterward.

Head east to the three doors.
Kill the white golem to the south which is weak to stab.
Enter the room and clear the water channel via Thieving.
Kill the Grey golem to the east which is weak to slash.
Enter the room and clear the water channel with a pickaxe.
Kill the Black golem to the north-east which is weak to crush.
Enter the room and clear the water channel by shooting the target on the other side with a bow and arrows.
Go through the north door and talk to one of the spirits. (Chat options 4-1)
Head back to Nardah.

Note: It is possible to be bugged when exiting the cave. To get out of the bug, simply use the Home teleport spell
The Genie
Edit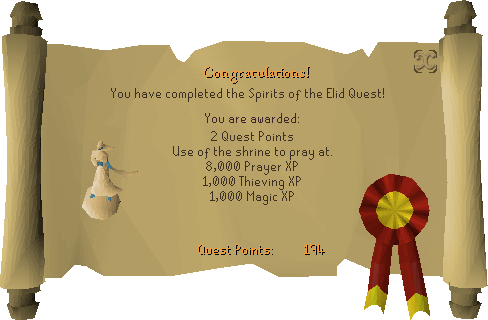 Characters

Awusah the Mayor • Ghaslor the Elder • Nirrie • Tirrie • Hallak • Genie • Garai • Jareesh • Shiratti the Custodian

Enemies

Items

 Ballad •  Ancestral key •  Torn robe top •  Torn robe bottom •  Robe of elidinis (top) •  Robe of elidinis (bottom) •  Shoes •  Sole •  Statuette •  Lamp

Locations

Music

Related

Quick Guide
Ad blocker interference detected!
Wikia is a free-to-use site that makes money from advertising. We have a modified experience for viewers using ad blockers

Wikia is not accessible if you've made further modifications. Remove the custom ad blocker rule(s) and the page will load as expected.