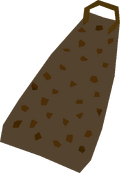 The spotted cape is a weight-reducing item and a reward from the Hunter skill. This item requires 40 Hunter to wear, and reduces a player's weight by 2.2 kg. To make it, you must bring 2 Spotted kebbit furs, and 400 coins to the Fancy Dress Shop, located in south-east Varrock.
Bonuses
Hover over image for type

A player wearing a spotted cape
 Attack bonus
+0
+0
+0
+0
+0
 Defence bonus
+0
+1
+1
+0
+2
Other bonuses
Slot

list

+0
+0
+0%
+0

It may also be needed as an item for a clue scroll (elite) along with black dragonhide chaps and a rolling pin.
Regular capes

 Red •  Black •  Blue •  Yellow •  Green •  Purple •  Orange •  Pink

Combat capes

 Legends • Fire (max) • Infernal (max) •  Moonclan •  Lunar •  Mythical •  Obsidian (r) •  Saradomin (max) •  Saradomin (i) (max) •  Zamorak (max) •  Zamorak (i) (max) •  Guthix (max) •  Guthix (i) (max) •  Team •  Team i •  Team x •  Team zero

Capes of Accomplishment

 Agility •  Attack •  Hitpoints •  Construction •  Cooking •  Crafting •  Defence •  Farming •  Firemaking •  Fishing •  Fletching •  Herblore •  Hunter •  Magic •  Mining •  Prayer •  Ranging •  Runecrafting •  Slayer •  Smithing •  Strength •  Thieving •  Woodcutting •  Quest point •  Achievement diary •  Music •  Max

Cloaks

 3rd age •  Clue hunter •  Ghostly •  H.A.M. •  Mourner •  Saradomin •  Zamorak •  Guthix  Bandos •  Armadyl •  Ancient •  Saradomin team •  Zamorak team •  Ardougne cloak (max)

Fremennik cloaks

 Cyan •  Brown •  Blue •  Green •  Red •  Grey •  Yellow •  Teal •  Purple •  Pink •  Black

Others

 Ava's attractor •  Ava's accumulator (max) •  Ava's assembler (max) •  Bonesack •  Cabbage •  Champion's •  Deadman's •  Diving apparatus •  Eagle •  Explorer backpack •  Spotted •  Spottier