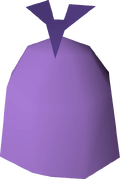 The Strange fruit can be picked from the Strange plant, which is a Random event; as well there is a chance to steal from the Fruit Stalls outside of Logava Gricoller's Cooking Supplies in Great Kourend's Hosidius House.
The Strange plant will not start attacking you if you do not pick its fruit since the update removing hostile random events. It can be eaten to cure poison. It also restores 30% run energy, making it a potential substitute to Energy potions.

The Chaos Elemental can drop 10 of these (noted).
Ad blocker interference detected!
Wikia is a free-to-use site that makes money from advertising. We have a modified experience for viewers using ad blockers

Wikia is not accessible if you've made further modifications. Remove the custom ad blocker rule(s) and the page will load as expected.