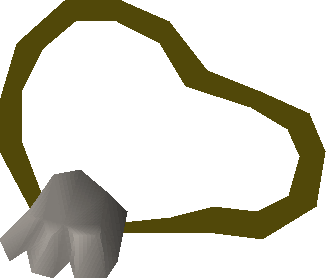 A strung rabbit foot (also known as Rabbit-foot necklace) is made by using a ball of wool with a Rabbit foot, requires level 37 Crafting and gives 4 experience. Rabbit feet can be obtained from the Hunter skill by snaring rabbits. Players must have completed the Eagles' Peak quest to be able to snare rabbits. It may only be worn with a hunting level of 24 or higher.
When worn, it was assumed the player would have a better chance of obtaining a bird nest when chopping trees. However, Mod Ash confirmed during an Old School Q&A Livestream that the item does not increase the chance of nest drops, only that the dropped nests will have an increased chance of containing bird's eggs; specifically, it changes from 3/100 to 3/95.
Bonuses
Hover over image for type

A player wearing the strung rabbit foot.
 Attack bonus
+0
+0
+0
+0
+0
 Defence bonus
+0
+0
+0
+0
+0
Other bonuses
Slot

list

+0
0
0%
+0
Ad blocker interference detected!
Wikia is a free-to-use site that makes money from advertising. We have a modified experience for viewers using ad blockers

Wikia is not accessible if you've made further modifications. Remove the custom ad blocker rule(s) and the page will load as expected.