This article is about uncooked sweetcorn. For a bowl of sweetcorn, see
Sweetcorn (bowl)
.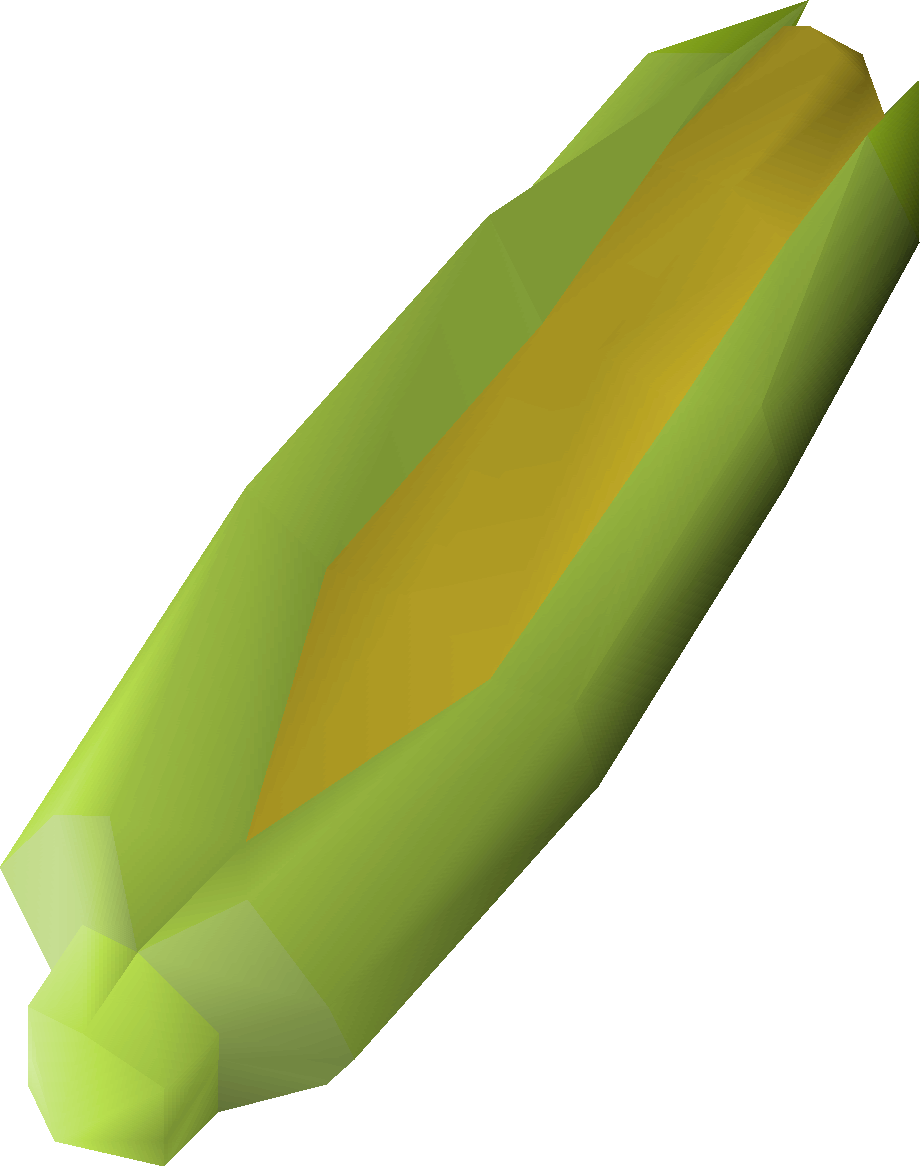 Raw sweetcorn is a food item that members can receive through Farming by planting three sweetcorn seeds into an allotment patch at level 20 Farming, or by trading with other players.
A scarecrow is used to protect growing sweetcorn from disease, and nine raw sweetcorn are used as payment for a farmer to watch over your growing apple tree. Putting 15 raw sweetcorn in a Compost Bin will yield normal compost.
A farmer will protect sweetcorn for 10 jute fibres.
It takes about 50 minutes to grow sweetcorn.
Players can cook sweetcorn on a range or a fire to make cooked sweetcorn (or occasionally burnt sweetcorn); this requires level 28 Cooking, and gives 104 experience. Cooking Sweetcorn gives a decent amount of experience, and thus is one of the ways that low-level members train their Cooking skill. Players stop burning sweetcorn at level 53 Cooking using a fire.
It is more frequently used as an ingredient in making tuna potatoes.
Players can also take raw sweetcorn to a windmill, put it in the hopper, and use an empty pot on the flour bin to get the pot of cornflour used to free Sir Amik Varze in the Recipe for Disaster quest.
Allotment produce

 Potato •  Onion •  Cabbage •  Tomato •  Sweetcorn •  Strawberry
 Watermelon

Flower produce

 Marigolds •  Rosemary •  Nasturtiums •  Woad leaf •  Limpwurt root

Hops

 Barley •  Hammerstone hops •  Asgarnian hops •  Jute fibre •  Yanillian hops •  Krandorian hops •  Wildblood hops

Bush produce

 Redberries •  Cadava berries •  Dwellberries •  Jangerberries •  White berries •  Poison ivy berries

Tree produce
Fruit tree produce

 Cooking apple •  Banana •  Orange •  Curry leaf •  Pineapple •  Papaya fruit •  Coconut

Special produce

 Giant seaweed •  Grapes •  Zamorak's grapes •  Mushroom •  Cactus spine •  Cave nightshade •  Calquat fruit •  White tree fruit
Ad blocker interference detected!
Wikia is a free-to-use site that makes money from advertising. We have a modified experience for viewers using ad blockers

Wikia is not accessible if you've made further modifications. Remove the custom ad blocker rule(s) and the page will load as expected.