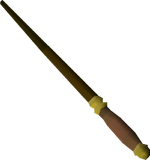 The teacher wand is a wand that can be wielded with 55 Magic. It can be obtained by either exchanging pizazz points at the Mage Training Arena or buying one from another player.
Purchasing the teacher wand from the mage training arena requires 150 Telekinetic, 200 Alchemist, 1500 Enchantment, and 150 Graveyard points, as well as an apprentice wand equipped or in your inventory.
Bonuses
Hover over image for type
 Attack bonus
+0
+0
+0
+15
+0
 Defence bonus
+0
+0
+0
+15
+0
Other bonuses
Slot

list

+0
0
0%
+0
Mage Training Arena

 Beginner •  Apprentice •  Teacher •  Master •

Other
Ad blocker interference detected!
Wikia is a free-to-use site that makes money from advertising. We have a modified experience for viewers using ad blockers

Wikia is not accessible if you've made further modifications. Remove the custom ad blocker rule(s) and the page will load as expected.