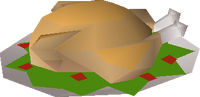 Thanksgiving dinner was dropped by Unusual Chickens during the week of 27 November 2014 to commemorate Thanksgiving. It heals two hitpoints. It was removed on 10 December 2014 with the introduction of the Trading post.
Ad blocker interference detected!
Wikia is a free-to-use site that makes money from advertising. We have a modified experience for viewers using ad blockers

Wikia is not accessible if you've made further modifications. Remove the custom ad blocker rule(s) and the page will load as expected.