| | |
| --- | --- |
| Start point | Brimstail in a cave to the southwest side of the Tree Gnome Stronghold, directly west of the bank. |
| Official difficulty | Intermediate |
| Description | After you foiled a plan to destroy the Grand Tree things have been quiet in the gnome world. Brimstail has found a strange machine, though, built by Oaknock the Engineer during the Gnomes' Golden Age. What does the weird device do? Why on RuneScape was it built?  If you agree to help this bookworm gnome get this confusing device working, you will learn a little about gnome magicks, gnome history, and you will start to uncover a new threat (or is it an old one?) to gnome security - a threat that is a lot harder to see ... |
| Length | Medium |
| Requirements | |
| Items required | Recommended: |
| Enemies to defeat | Evil creature (x6) |
Walkthrough
Edit
Digression
Edit
Talk to Brimstail (Cave west of tree patch in the Gnome Stronghold) (Chat 1-1-1-1)
Elven Mystery
Edit
Inspect the singing bowl in the western portion of the cave.
To the north, attempt to unlock Oaknock's Exchanger.
Talk to Brimstail (Chat 1-1)
Talk to Hazelmere (East of Yanille, fairy ring code cls). There will be several cutscenes and no chat options.
Return to Brimstail (Chat 1)
Incapacitated
Edit
Grind mud rune and use on bucket of sap
Repair Oaknock's machine
Talk to Brimstail (Chat 1)
Anti-Illusion
Edit
Talk to him again to receive more discs
Front Panel
Edit
Control Panel
Edit
Unlock the front panel by inserting a disc with a value equal to the green number
Talk to Brimstail for more discs
To exchange discs for discs of different values, insert them into the exchanger (See full guide here)
Complete the three puzzles inside the unlocked machine
Talk to Brimstail (Chat 1)
Assassination
Edit
Kill Evil Creature
Talk to Brimstail (Chat 1)
Talk to King Narnode Shareen in the Grand Tree
Kill all Evil Creatures:
The one by Brimstail, if you haven't killed it already.
One outside of the main gate (south-east from Brimstail's cave).

Note: It must be killed within stronghold walls. If it is outside, simply kill it, let it spawn, and kill it again for credit.
One by the gnome agility course entrance (near the spirit tree).
One by King Narnode. You may have to range or mage this one, as it can get stuck behind a trapdoor.
One at the top of the Grand Tree, by the prison. Make sure you wait a few seconds after killing before using ladder.
One by the giant tortoises north-west of the Grand Tree (in the pen north of the swamp).
Talk to King Narnode
Quest complete!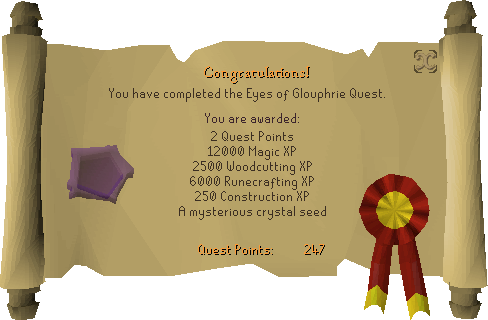 Ad blocker interference detected!
Wikia is a free-to-use site that makes money from advertising. We have a modified experience for viewers using ad blockers

Wikia is not accessible if you've made further modifications. Remove the custom ad blocker rule(s) and the page will load as expected.