| | |
| --- | --- |
| Start point | Talk to Brother Tranquility in Mos Le'Harmless. |
| Official difficulty | Experienced |
| Description | The peaceful contemplation of the monks of Harmony Island has been disturbed by such rude interruptions as an invasion of zombie pirates and the theft of their brains! The evil zombie pirates have returned with a new scheme, and it's up to you to try to re-mind these poor priests before the sinister Mi-Gor completes his experiments... |
| Length | Medium |
| Requirements | |
| Items required | Recommended: |
| Enemies to defeat | |
Walkthrough
Edit
Items required: 4 planks, 20 nails, a hammer, fishbowl helmet, and diving apparatus (DON'T BRING ANY PET!)
The prayer book
Edit
Items required: a holy symbol
The doctor
Edit
Items required: Ring of Charos, 14 wooden planks, 50 nails, 10 pieces of fur, and a hammer. Crate parts and wolf whistle are needed but obtained during this section.
Making the transplants
Edit
Items required: a hammer, fishbowl helmet, diving apparatus, and combat equipment
The big battle
Edit
Items required: Combat equipment, hammer
Quest complete!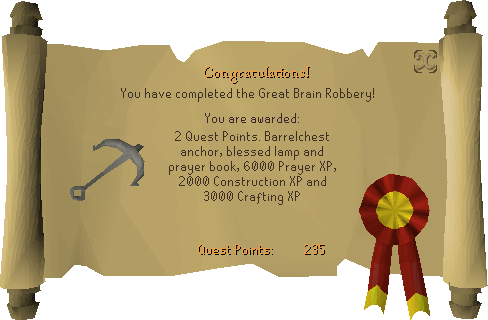 NPCs

Brother Tranquility • Mi-Gor • Dr Fenkenstrain • Rufus • Monk • Zombie monk • Zombie pirate • Sorebones • Barrelchest

Items

 Prayer book •  Crate part •  Wolf whistle •  Wooden cat •  Shipping order •  Bell jar •  Brain tongs •  Cranial clamp •  Skull staple •  Fuse •  Keg

Rewards

Locations

Music

Related

Quick Guide