The Kendal
is a
monster
from the
Mountain Daughter
quest
. He is located to the Cave north of the
Mountain Camp
, and has a maximum hit of 9.
At first, the mountain people believe him to be the Kendal, one of their gods. However, he is actually a man in a suit. The player discovers the Kendal's secret after laughing at him and stating he looks like a man in a suit, to which the Kendal exclaims with "How did you find out!?"
Once the player kills the Kendal they obtain the Bearhead mask and are able to put the cheftain's daughter, Asleif, to rest.
He can be fought in the Nightmare Zone after the quest is complete.
Fighting tips
Edit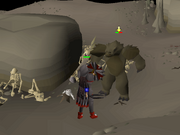 It is an easy fight; you do not need a lot of food (unless you're a lower level), and, if you have protect from melee, you don't need food at all, but might wish to bring a prayer potion.
The Kendal takes its name from the town of Kendal in the county of Cumbria, England. It may also be a reference to Grendel from the legend of Beowulf.
Another reference may be Eaters of the Dead, and The 13th Warrior, a movie based on it.
Bosses

Agrith-Naar • Agrith-Na-Na • Arrg • Barrelchest • Black demon • Black Knight Titan • Bouncer • Chronozon • Corsair Traitor • Count Draynor • Culinaromancer • Dad • Dagannoth mother • Damis • Dessourt • Dessous • Elvarg • The Everlasting • Evil Chicken • Fareed • Flambeed • Gelatinnoth Mother • Giant Roc • Giant scarab • Glod • Ice Troll King • The Inadequacy • Jungle Demon • Kamil • Karamel • The Kendal • Khazard warlord • King Roald • Me • Moss giant • Nazastarool • Nezikchened • Sand Snake • Skeleton Hellhound • Slagilith • Tanglefoot • Tree spirit • Treus Dayth • The Untouchable • Witch's experiment

Rewards

| | |
| --- | --- |
| Resources |  Snape grass •  Red spiders' eggs •  Flax •  Bucket of sand •  Potato cactus •  Seaweed •  Dragon scale dust •  Compost potion •  Herb box •  Vial of water •  Scroll of redirection |
| Upgrades |  Black mask (imbued) •  Slayer helmet (imbued) •  Salve amulet (imbued) • Salve amulet (e) (imbued) •  Ring of suffering (imbued) •  Berserker ring (imbued) •  Warrior ring (imbued) •  Archers ring (imbued) •  Seers ring (imbued) •  Tyrannical ring (imbued) •  Treasonous ring (imbued) •  Ring of the gods (imbued) •  Granite ring (imbued) •  Crystal bow •  Crystal shield •  Crystal halberd |
| Benefits | |
Ad blocker interference detected!
Wikia is a free-to-use site that makes money from advertising. We have a modified experience for viewers using ad blockers

Wikia is not accessible if you've made further modifications. Remove the custom ad blocker rule(s) and the page will load as expected.