Old School RuneScape uses the British convention for floor numbering: Ground floor, first floor, etc.
| | |
| --- | --- |
| Start point | Talk to the squire located in the White Knights' Castle in Falador. |
| Official difficulty | Intermediate |
| Description | Sir Vyvin's squire is in trouble. He has accidentally lost Sir Vyvin's ceremonial sword. Help him find a replacement without Sir Vyvin finding out. |
| Length | Short - Medium |
| Requirements | Optional: |
| Items required | Optional: |
| Enemies to defeat | None |
Walkthrough
Edit
Talk to the Squire in the White Knights' Castle. (chat options: 1, 2, 1, 1)
Talk to Reldo in the library of Varrock Palace. (option 4) or (option 3 )
Talk to Thurgo south of Port Sarim - and give him a redberry pie - Talk to him again. (2, 2, 2) (You can save a step by also heading down the Asgarnian Ice Dungeon and acquire the blurite ore now so when you return with the picture he can make the sword right away!)
Walk / Teleport to Falador and talk to the Squire.
Go up the ladder in the Eastern part of the Castle, then use the stairs in the central room of the castle to end up in Sir Vyvin's Room on the 2nd floor[

U.K. floor

], and search the cupboard in his bedroom, to find a Portrait. He must not be looking at you or be in the room.
Talk to Thurgo, bring your iron bars so you don't have to go to the bank later.
Go to the Asgarnian Ice Dungeon using the trapdoor to the East.
Once inside, follow the path West, North, and then East. Keep along the Southern wall in the icy area and mine a blurite ore.
Talk to Thurgo again - Bring your iron bars and blurite ore - Talk to him again and he'll make the blurite sword. (2, 2)
Bring the sword to the Squire.
Congratulations! Quest Complete!
Edit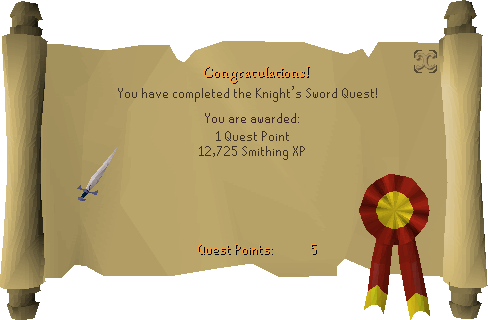 Ad blocker interference detected!
Wikia is a free-to-use site that makes money from advertising. We have a modified experience for viewers using ad blockers

Wikia is not accessible if you've made further modifications. Remove the custom ad blocker rule(s) and the page will load as expected.