This article is about the ship named Rusty Anchor. For the bar, see
Rusty Anchor Inn
.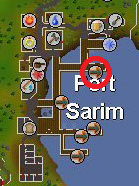 The Rusty Anchor is a boat located in Port Sarim. It will ferry you between Port Sarim and Entrana, as long as you are not carrying or wielding anything that causes your stats to rise/fall. If you are the monks will not let you aboard, and will require you deposit or drop the items before boarding. The cost to board is free.
Ad blocker interference detected!
Wikia is a free-to-use site that makes money from advertising. We have a modified experience for viewers using ad blockers

Wikia is not accessible if you've made further modifications. Remove the custom ad blocker rule(s) and the page will load as expected.