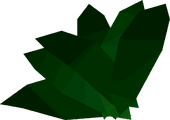 Toadflax is a low level herb, requiring level 30 Herblore to clean. It can be acquired from Random events or grown with a Farming level of 38, by planting toadflax seeds in herb patches. It can also be acquired by trading in 3 tickets from the Brimhaven Agility Arena. It is used to make agility potions, and most commonly, Saradomin brews.
Increase their value and save time training Herblore by adding them to Vials of Water without hesitation; using Toadflax in the coconut milk based Antidote+ potion is often considered a waste, as Antidote++ is highly more preferred by PvM'ers, whereas the one plus version of Antidote is not usually in demand or used often. However, Antidote+ can be a viable and cheaper option in certain situations, such as fending off poison while training Ranged or Magic at the Skeletal Monkeys on Ape Atoll.
Normal herbs

 Guam leaf (Grimy) •  Marrentill (Grimy) •  Tarromin (Grimy) •  Harralander (Grimy) •  Ranarr weed (Grimy) •  Toadflax (Grimy) •  Irit leaf (Grimy) •  Avantoe (Grimy) •  Kwuarm (Grimy) •  Snapdragon (Grimy) •  Cadantine (Grimy) •  Lantadyme (Grimy) •  Dwarf weed (Grimy) •  Torstol (Grimy)

Special herbs

 Ardrigal (Grimy) •  Bruma herb •  Doogle leaves •  Goutweed •  Rogue's purse (Grimy) •  Sito foil (Grimy) •  Snake weed (Grimy) •  Volencia moss (Grimy)

Chambers of Xeric
Ad blocker interference detected!
Wikia is a free-to-use site that makes money from advertising. We have a modified experience for viewers using ad blockers

Wikia is not accessible if you've made further modifications. Remove the custom ad blocker rule(s) and the page will load as expected.