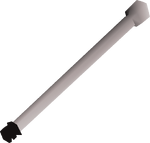 The top of sceptre is a piece of the skull sceptre that is dropped by Catablepon on the third level of the Stronghold of Security. It is combined with the bottom of sceptre to get the runed sceptre. It is usually considered the most difficult part of the skull sceptre to obtain. The Stronghold of Security is the dungeon beneath Barbarian Village, to the west of Varrock and east of the Dwarven Mine.
Dropping monsters
Edit
| Monster | Combat level | Quantity | Rarity |
| --- | --- | --- | --- |
| Catablepon | 49; 64; 68 | 1 | |
 Strange skull
 Runed sceptre

 Bottom of sceptre •  Top of sceptre
Ad blocker interference detected!
Wikia is a free-to-use site that makes money from advertising. We have a modified experience for viewers using ad blockers

Wikia is not accessible if you've made further modifications. Remove the custom ad blocker rule(s) and the page will load as expected.