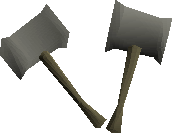 Torag's hammers are a melee weapon that is part of Torag The Corrupted's set of barrows equipment. To wield Torag's hammers, a player must have 70 Attack and Strength.
Being part of Torag's barrows set, if Torag's hammers are wielded along with all of the other pieces of equipment in Torag's barrows set the player gains a special effect: damaging melee attacks have a chance of lowering the victim's run energy by 20%. This weapon cannot be made using the Smithing skill.
Torag's hammers have lower popularity and value compared to other barrows weapons, as the hammers have a lower strength bonus and Torag's special effect is not as useful in combat, however, they have a high crush bonus and can be one of the more likely out of the melee barrows weapons to hit as most armours have less crush defensive bonus than slash.
* - Torag's hammers are only tradeable when undamaged or fully broken.
Bonuses
Hover over image for type

A player wearing Torag's armour.
 Attack bonus
-4
-4
+85
-4
+0
 Defence bonus
+0
+0
+0
+0
+0
Other bonuses
Slot

list

+72
0
0%
+0
Dharok the Wretched
Torag the Corrupted
Ahrim the Blighted

 Set •  Hood •  Robe top •  Robe skirt •  Staff

Verac the Defiled

 Set •  Helm •  Brassard •  Plateskirt •  Flail

Guthan the Infested

 Set •  Helm •  Platebody •  Chainskirt •  Warspear

Karil the Tainted

 Set •  Coif •  Leathertop •  Leatherskirt •  Crossbow (Bolt rack)
Mace

 Bronze •  Iron •  Steel •  Black •  White •  Ancient •  Mithril •  Adamant •  Rune •  Tzhaar-ket-em •  Dragon

Warhammer

 Bronze •  Iron •  Steel •  Black •  White •  Mithril •  Adamant •  Rune •  Granite •  Dragon

Cane
Kitchen weaponry
Maul
Mjolnir

Other

 Hill giant club •  Barrelchest anchor •  Verac's flail •  Torag's hammers •  Abyssal bludgeon
Ad blocker interference detected!
Wikia is a free-to-use site that makes money from advertising. We have a modified experience for viewers using ad blockers

Wikia is not accessible if you've made further modifications. Remove the custom ad blocker rule(s) and the page will load as expected.