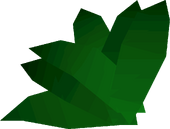 Torstol is the highest level herb, which requires level 75 Herblore to clean and yields 15 experience. Torstol can be grown in herb patches at level 85 Farming.
Obtaining torstol herbs may be found difficult as they can only be obtained by Farming, nature implings, or dropped rarely by Zulrah and the Kalphite Queen. Alternatively, They can also be obtained(in grimy form) from the Sinister chest, Skotizo, Cerberus, and the Chambers of Xeric.
Dropping monsters
Edit
| Monster | Combat level | Quantity | Rarity |
| --- | --- | --- | --- |
| Zulrah | 725 | 10 (noted) | |
| Kalphite Queen | 333 | 25 (noted) | |
Ad blocker interference detected!
Wikia is a free-to-use site that makes money from advertising. We have a modified experience for viewers using ad blockers

Wikia is not accessible if you've made further modifications. Remove the custom ad blocker rule(s) and the page will load as expected.