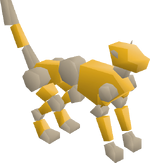 The Toy cat is made at a Crafting table 4 in the Workshop of a Player Owned House, from a clockwork and a regular plank. The toy cat differs from the wooden cat, a quest item which can also be made in the workshop.
A Crafting level of 85 is needed to construct the cat, giving 15 experience points.
The cat may be "released" to follow players around like any regular cat. However, it can not be fed, catch rats, be petted, be spoken to or be used as a substitute for a real cat in quests. Toy cats are the only type of pet which can be traded with another player. In addition, players do not have to complete the Gertrude's Cat quest in order to have this cat.
If you accept a random event that takes you to a random event area, your clockwork cat will be invisible and unable to be interacted with (including picking it back up) after being returned. This makes it impossible to enter build mode on your house as well as place out another pet. This can only be rectified by logging out then back in, and is currently assumed to be a bug.
Boss pets

 Baby mole •  Dark energy core •  Jal-nib-rek •  Kalphite princess •  Olmlet •  Skotos •  Snakeling •  TzRek-Jad

| | |
| --- | --- |
| Wilderness bosses |  Callisto cub •  Chaos Elemental •  Prince black dragon •  Scorpia's offspring •  Venenatis spiderling •  Vet'ion jr. |
| Dagannoth Kings | |
| God Wars Dungeon |  Commander Zilyana •  General Graardor •  Kree'arra •  K'ril Tsutsaroth |
| Slayer |  Abyssal orphan •  Hellpuppy •  Noon (Midnight) •  Kraken •  Smoke devil |

Skilling pets

 Baby chinchompa •  Beaver •  Giant squirrel •  Heron •  Rift guardian •  Rock golem •  Rocky •  Tangleroot

Other pets

 Bloodhound •  Cat (Wily cat) (Hellcat) •  Chompy chick •  Fish •  Herbi •  Penance Queen •  Phoenix •  Rock •  Toy cat
Ad blocker interference detected!
Wikia is a free-to-use site that makes money from advertising. We have a modified experience for viewers using ad blockers

Wikia is not accessible if you've made further modifications. Remove the custom ad blocker rule(s) and the page will load as expected.