| | |
| --- | --- |
| Start point | Centre of the Tree Gnome Village Maze, talk to King Bolren. |
| Official difficulty | Intermediate |
| Description | The tree gnomes are in trouble. General Khazard's forces are hunting them to extinction. Find your way through the hedge maze to the gnomes secret treetop village, then help the gnomes fight Khazard and retrieve the orbs of protection. |
| Length | Medium |
| Requirements | Must defeat a level 112 Khazard warlord. |
| Items required | |
| Enemies to defeat | Khazard Warlord (level 112) |
Walkthrough
Edit
Getting started
Edit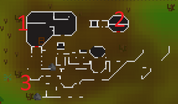 The three trackers
Edit
Speak to Commander Montai in the south end of the battlefield (Chat 1)
Give him 6 logs and talk to him again. He'll ask you to find the missing gnome trackers.
The first tracker is towards the north-west of the Khazard Stronghold.
The second tracker is in a building towards the east side of the stronghold.
The third tracker is at the south-west corner of the stronghold. He'll only give you a riddle.
Click the ballista in the south-west corner and enter the forth coordinate. If you miss, try again.
Once you get a hit, talk to Montai once again and climb over the destroyed stronghold wall.
You can ignore or kill the level 48 Khazard Commanders that will attack you.

Climb the ladder, search the chest, and take the orb of protection.
Return to the Tree Gnome Village, and talk to Elkoy to be sent to the centre.
King Bolren will ask you to get the other two orbs of protection.
Kill Khazard Warlord south of the underground pass for two orbs.
Head back to the village and return the orbs to King Bolren.
Quest complete!
Ad blocker interference detected!
Wikia is a free-to-use site that makes money from advertising. We have a modified experience for viewers using ad blockers

Wikia is not accessible if you've made further modifications. Remove the custom ad blocker rule(s) and the page will load as expected.