| | |
| --- | --- |
| Start point | Speak to Ug at the Troll Stronghold. |
| Official difficulty | Experienced |
| Description | Ug loves Aga, but Aga is together with Arrg. Since Arrg is a lot stronger than Ug, Ug can't follow the regular mating ritual, which involves ripping the opponent into pieces. Will you be able to find out what will impress the troll female more than a display of violence? Will you survive the journey to help a lonely troll find love? |
| Length | Medium |
| Requirements | |
| Items required | Recommended: |
| Enemies to defeat | Arrg (level 113) (safespottable) |
Walkthrough
Edit
Note: Players who have access to fairy rings may want to access the Troll Stronghold by going through the secret back door east of the Fremennik Province.
Talk to Ug at the middle floor of the Troll Stronghold. Offer him your help. (Chat 1-3)
Talk to Aga in the room to the north. (Chat 2-1)
Talk to Arrg. (Chat 2)
Talk to Ug again.
Survival Techniques
Edit
Reach the north-west exit of Trollheim, leading to a snowy area.
Head north-west and enter the cave.
Head north-west and exit the cave.
Head south, equip your sled and slide through the slope.
After the end of the first part of the ride, pick the Trollweiss west of your location.
Go back to Ug.
The Things We Do For Love
Edit
Talk to Arrg Tell him you're here to kill him. Arrg will teleport you into the arena, in which you previously fought Dad, except it will be significantly harder to safe-spot him.
WARNING: Arrg will attack immediately after the teleport, using a combination of melee AND ranged attacks, that hit hard, so be prepared!
Kill Arrg.
Return to Ug and talk to him.
Quest complete!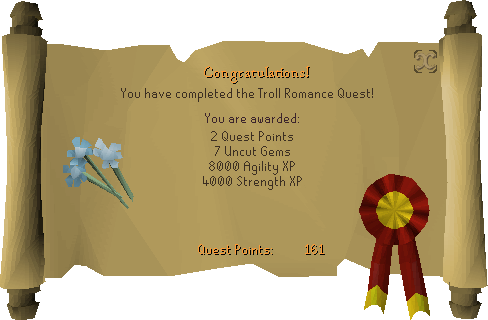 Ad blocker interference detected!
Wikia is a free-to-use site that makes money from advertising. We have a modified experience for viewers using ad blockers

Wikia is not accessible if you've made further modifications. Remove the custom ad blocker rule(s) and the page will load as expected.