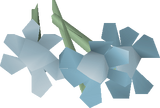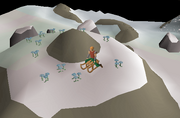 A trollweiss is a rare flower obtained and used during the Troll Romance quest. They are light blue and white in colour, and are endangered (as revealed during the quest).
Players can obtain more than one, but only use one as part of the quest. They can also be equipped, and have the same stats as regular flowers.
Bonuses
Hover over image for type

A player wielding a trollweiss.
 Attack bonus
-100
-100
-50
+0
+0
 Defence bonus
+0
+0
+0
+0
+0
Other bonuses
Slot

list

-10
0
0%
+0
Combat styles
Edit
Seeds

 Marigold seed •  Rosemary seed •  Nasturtium seed •  Woad seed •  Limpwurt seed

Garden of Tranquillity

 Delphinium •  Pink orchid •  Pink rose •  Red rose •  Snowdrop •  White rose •  Yellow orchid

Farmed flowers

 Marigolds •  Rosemary •  Nasturtiums •  Woad leaf •  Limpwurt root

POH

 Thistle •  Sunflower •  Marigolds •  Roses •  Rosemary •  Daffodils •  Bluebells

Coloured

 Mithril seeds •  Assorted flowers •  Black flowers •  Blue flowers •  Mixed flowers •  Orange flowers •  Purple flowers •  Red flowers •  White flowers •  Yellow flowers

Other

 Blue flowers •  Cicely •  Exotic flower •  Medivaemia blossom •  Red flowers •  Star flower •  Trollweiss •  Troll thistle
Ad blocker interference detected!
Wikia is a free-to-use site that makes money from advertising. We have a modified experience for viewers using ad blockers

Wikia is not accessible if you've made further modifications. Remove the custom ad blocker rule(s) and the page will load as expected.