The tropical wagtail requires Hunter level 19 to snare, highest of all snareable birds.
These birds are found in the Feldip Hills Jungle Hunter Area south of the Feldip Hills. Bring at least two bird snares, because shortly after reaching level 19 Hunter, at which point you can snare these birds, you will reach level 20, at which point you can place two snares at a time. The Tropical Wagtail rewards 95.8 experience per catch
Using the Fairy rings coordinate AKS from a fairy ring, head South into the hunter area.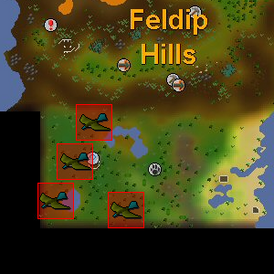 Birds

 Crimson swift •  Golden warbler •  Copper longtail •  Cerulean twitch •  Tropical wagtail

Butterflies

 Ruby harvest (item) •  Sapphire glacialis (item) •  Snowy knight (item) •  Black warlock (item)

Implings

 Baby •  Young •  Gourmet •  Earth •  Essence •  Eclectic •  Nature •  Magpie •  Ninja •  Dragon •  Lucky

Kebbits

 Barb-tailed •  Common •  Dark •  Dashing •  Desert Devil •  Polar •  Prickly •  Razor-backed •  Sabre-toothed •  Spotted •  Wild

Salamanders

 Swamp lizard •  Black •  Orange •  Red

Chinchompas

Other

 Ferret •  Horned graahk •  Maniacal monkey •  Imp •  Sabre-toothed kyatt •  Spined larupia •  White rabbit •  Herbiboar •  Fish shoal
Ad blocker interference detected!
Wikia is a free-to-use site that makes money from advertising. We have a modified experience for viewers using ad blockers

Wikia is not accessible if you've made further modifications. Remove the custom ad blocker rule(s) and the page will load as expected.