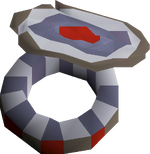 The tyrannical ring is a ring dropped by Callisto south of the Demonic Ruins.
It is very useful when using crush weapons as the tyrannical ring is the only ring that provides a crush attack bonus. However, compared to the Berserker ring, the tyrannical ring does not provide any strength bonus.
It is often used with Dragon warhammer for its special attack, as it only reduces the enemy's defense if the player hits, which is where the tyrannical ring's accuracy bonus helps.
It can be imbued into a Tyrannical ring (i) using 650,000 Nightmare Zone reward points, giving it a +8 crush attack and defence bonus, instead of the usual +4.
Bonuses
Hover over image for type
 Attack bonus
+0
+0
+4
+0
+0
 Defence bonus
+0
+0
+4
+0
+0
Other bonuses
Slot

list

+0
0
0%
+0
Dropping monsters
Edit
| Monster | Combat level | Quantity | Rarity |
| --- | --- | --- | --- |
| Callisto | 470 | 1 | |
Despite its examine information, the Tyrannical ring is weightless.
Although the other rings are decorated with items that make sense (e.g. treasonous ring has Venenatis's fang, ring of the gods has a divine sigil, archer ring has an arrow), this ring does not have anything that would seem to be a crush type of object. The only resemblance is that it has the same base colour scheme as the berserker ring, which has a hammer, which is a symbol of strength and crush.

Some users believe the ring appears to actually depict a shield that has been dented inwards from several blows. This is only easy to determine upon viewing the fullsize HD image on the wiki. It would make sense if this is an accurate interpretation of the item attached, as crushing blow styled combat weapons such as flails, maces, and warhammers, are historically known for being used to dent, and therefore weaken, the structural integrity of an opponents armour over the course of a melee conflict. Other users, however, may find that the ring appears to represent the crushing maw of a bear. This would also explain the crush bonus, along with it being dropped by a bear.
Standard

 Opal •  Gold •  Jade •  Topaz •  Sapphire •  Emerald •  Ruby •  Diamond •  Dragonstone •  Onyx •  Zenyte

Enchanted

 Pursuit •  Returning •  Efaritay's aid •  Recoil •  Dueling •  Forging •  Life •  Wealth (imbued) •  Stone •  Suffering (imbued)

Fremennik

 Archers (imbued) •  Berserker (imbued) •  Seers (imbued) •  Warrior (imbued)

Wilderness

 Treasonous (imbued) •  Tyrannical (imbued) •  Ring of the gods (imbued)

Other

 Beacon •  Charos (activated) •  Coins •  Easter •  Granite (imbued) •  Lunar •  Nature •  'Perfect' •  Slayer (eternal) •  Stolen garnet •  Visibility