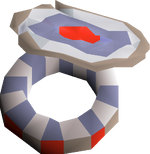 The Tyrannical ring (i) is an upgraded version of the regular Tyrannical ring. It can be imbued as a reward from the Nightmare Zone, costing 650,000 reward points. Its stats are doubled compared to the tyrannical ring.
Dying will cause the imbued ring to lose its imbued bonus, and the player will have to obtain the reward points again to imbue it again.
Bonuses
Hover over image for type
 Attack bonus
+0
+0
+8
+0
+0
 Defence bonus
+0
+0
+8
+0
+0
Other bonuses
Slot

list

+0
0
0%
+0
Despite its examine information, the Tyrannical ring is weightless.
Although the other rings are decorated with items that make sense (e.g. treasonous ring has a tanzanite fang, ring of the gods has a divine sigil, archer ring has an arrow), this ring does not have anything that would seem to be a crush type of object. The only resemblance is that it has the same base colour scheme as the berserker ring, which has a hammer, which is a symbol of strength and crush.
Standard

 Opal •  Gold •  Jade •  Topaz •  Sapphire •  Emerald •  Ruby •  Diamond •  Dragonstone •  Onyx •  Zenyte

Enchanted

 Pursuit •  Returning •  Efaritay's aid •  Recoil •  Dueling •  Forging •  Life •  Wealth (imbued) •  Stone •  Suffering (imbued)

Fremennik

 Archers (imbued) •  Berserker (imbued) •  Seers (imbued) •  Warrior (imbued)

Wilderness

 Treasonous (imbued) •  Tyrannical (imbued) •  Ring of the gods (imbued)

Other

 Beacon •  Charos (activated) •  Coins •  Easter •  Granite (imbued) •  Lunar •  Nature •  'Perfect' •  Slayer (eternal) •  Stolen garnet •  Visibility
Bosses

Agrith-Naar • Agrith-Na-Na • Arrg • Barrelchest • Black demon • Black Knight Titan • Bouncer • Chronozon • Corrupt Lizardman • Corsair Traitor • Count Draynor • Culinaromancer • Dad • Dagannoth mother • Damis • Dessourt • Dessous • Elvarg • The Everlasting • Evil Chicken • Fareed • Flambeed • Gelatinnoth Mother • Giant Roc • Giant scarab • Glod • Ice Troll King • The Inadequacy • Jungle Demon • Kamil • Karamel • The Kendal • Khazard warlord • King Roald • Me • Moss giant • Nazastarool • Nezikchened • Sand Snake • Skeleton Hellhound • Slagilith • Tanglefoot • Tree spirit • Treus Dayth • The Untouchable • Witch's experiment

Rewards

| | |
| --- | --- |
| Resources |  Snape grass •  Red spiders' eggs •  Flax •  Bucket of sand •  Potato cactus •  Seaweed •  Dragon scale dust •  Compost potion •  Herb box •  Vial of water •  Scroll of redirection |
| Upgrades |  Black mask (imbued) •  Slayer helmet (imbued) •  Salve amulet (imbued) •  Salve amulet (e) (imbued) •  Ring of suffering (imbued) •  Berserker ring (imbued) •  Warrior ring (imbued) •  Archers ring (imbued) •  Seers ring (imbued) •  Tyrannical ring (imbued) •  Treasonous ring (imbued) •  Ring of the gods (imbued) •  Granite ring (imbued) •  Crystal bow •  Crystal shield •  Crystal halberd |
| Benefits | |