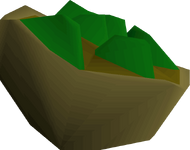 The ugthanki kebab is a special type of kebab. The primary ingredient of it is the meat of an Ugthanki camel.
Ugthanki kebabs are made by chopping a tomato, an onion, and a piece of cooked ugthanki meat into a bowl with a knife, then using the resulting kebab mix with a baked pitta bread. Level 58 Cooking is required to make the pitta bread, but the rest may be made at Cooking level 1.
This kebab heals 19 hitpoints, and, unless eaten at full hitpoints, causes your character to exclaim "Yum!" in contentment.
Dropping monsters
Edit
Ad blocker interference detected!
Wikia is a free-to-use site that makes money from advertising. We have a modified experience for viewers using ad blockers

Wikia is not accessible if you've made further modifications. Remove the custom ad blocker rule(s) and the page will load as expected.