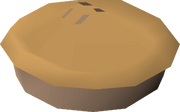 An uncooked apple pie is an uncooked food item made by using a cooking apple on a pie shell that has already had pastry dough added to it. Players need at least level 30 Cooking to make it. If successfully cooked, an apple pie provides 130 Cooking experience.
The uncooked pie can be cooked on a range (but not a fire) to make an apple pie. However, there is a risk that the pie will burn and become a burnt pie. Like other pies, apple pies can also be cooked with the Lunar spell Bake Pie without the chance of burning.
A convenient place to make uncooked apple pies and cook them is the Cooks' Guild, which requires level 32 Cooking and a Chef's hat to enter. All of the ingredients needed to make apple pie are found around the guild, as it has 3 cooking apple spawns, a pie dish respawn, a jug respawn, a sink, a mill, wheat, and cooking ranges.
Pies

 Redberry •  Meat •  Mud •  Apple •  Garden •  Fish •  Botanical •  Mushroom •  Admiral •  Wild •  Summer

Raw/uncooked pies

 Redberry •  Meat •  Mud •  Apple •  Garden •  Fish •  Botanical •  Mushroom •  Admiral •  Wild •  Summer

Part pies

 Pie shell •  Mud 1 •  Mud 2 •  Garden 1 •  Garden 2 •  Fish 1 •  Fish 2 •  Admiral 1 •  Admiral 2 •  Wild 1 •  Wild 2 •  Summer 1 •  Summer 2

Ingredients

 Pastry dough •  Redberries •  Cooked meat •  Compost •  Cooking apples •  Tomato •  Onion •  Cabbage •  Trout •  Cod •  Raw potato •  Salmon •  Tuna •  Raw bear meat •  Raw chompy •  Raw rabbit •  Strawberry •  Sulliuscep cap •  Watermelon •  Golovanova fruit top
Ad blocker interference detected!
Wikia is a free-to-use site that makes money from advertising. We have a modified experience for viewers using ad blockers

Wikia is not accessible if you've made further modifications. Remove the custom ad blocker rule(s) and the page will load as expected.