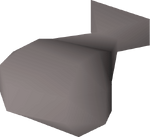 An unpowered orb is an item used to make enchanted orbs by casting an enchanting spell on the corresponding Obelisk, then crafting the orb onto a battlestaff to make an air, water, earth, or fire battlestaff.
An unpowered orb can be made out of molten glass with a glassblowing pipe at 46 Crafting, granting 52.5 Crafting experience. The orbs are also dropped in noted form, by the Skeletal Wyvern and the Kraken.
 Molten glass

Products

 Beer glass •  Candle lantern •  Oil lamp •  Vial •  Fishbowl •  Unpowered orb •  Lantern lens •  Empty light orb

Materials
Ad blocker interference detected!
Wikia is a free-to-use site that makes money from advertising. We have a modified experience for viewers using ad blockers

Wikia is not accessible if you've made further modifications. Remove the custom ad blocker rule(s) and the page will load as expected.