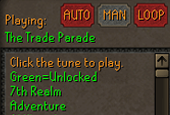 Abbey Road Competition

Enjoy RuneScape music? Of course you do. So, how would you like the chance to do something a little bit special?
RuneScape holds the Guinness World Record for the highest volume of original music tracks (1,202 at the time of writing). On December 12th, we'll be at Abbey Road studio for an exclusive recording session, and you and a friend could be there to enjoy every second - all expenses paid!
We want to know which RuneScape track is your favourite and why. Does it evoke a special memory? Does it remind you of an in-game milestone, or is it just a brilliant piece of music?
To enter, tell us your answer on the Official Forums, Twitter, Reddit or Instagram. For Twitter and Instagram, use #MyRuneScapeSong.
More information can be found here.
Mods Archie, Ash, Ayiza, Curse, Ed, Ghost, Jed, John C, Kieren, Mat K, Maz, Roq, Ry, Stone, Sween, TomH, Weath, West & Wolf
The Old School Team
Ad blocker interference detected!
Wikia is a free-to-use site that makes money from advertising. We have a modified experience for viewers using ad blockers

Wikia is not accessible if you've made further modifications. Remove the custom ad blocker rule(s) and the page will load as expected.