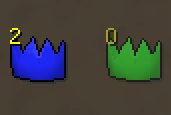 Following the feedback given to us by the community, we have made a few changes to bank placeholders:
The Placeholder toggle button has been moved slightly to be by the Search button.
The 'always placeholder' toggle now persists over logout.
Potions of the same kind with different numbers of doses can no longer share placeholders.
Placeholders can now be made for unfinished potions.
As always, we are listening to all of the feedback you send our way so be sure to let us know what you think about bank placeholders.
Mods Archie, Ash, Ghost, Ian, Jed, John C, Kieren, Mat K, Maz, Ronan, WeathThe Old School Team
Ad blocker interference detected!
Wikia is a free-to-use site that makes money from advertising. We have a modified experience for viewers using ad blockers

Wikia is not accessible if you've made further modifications. Remove the custom ad blocker rule(s) and the page will load as expected.