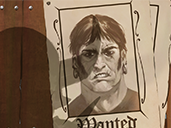 Tomorrow is the launch of Bounty Hunter for Old School and we are going to be giving you a sneak-peek at what is in store.
Tonight at 9pm BST over on the RuneScape Twitch.tv channel mods Reach and Ronan will be running through the entire Bounty Hunter system and rewards.
Bounty Hunter is set to be a revolutionary update for PvP in Old School and we hope to see many players embracing the challenge of hunting down their enemies. Get ready for tomorrow's update, it is going to be a big one.
Mods Ash, John C, Mat K, Reach, Ronan & Weath
The Old School Team
Ad blocker interference detected!
Wikia is a free-to-use site that makes money from advertising. We have a modified experience for viewers using ad blockers

Wikia is not accessible if you've made further modifications. Remove the custom ad blocker rule(s) and the page will load as expected.