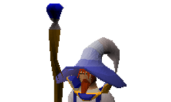 Bring yourselves, bring your armour and bring your questions as Mat K will be in Castle Wars tonight helping you get tickets so you can buy the cool new mage armour.
To join in, simply log in to game, to watch head to our
Twitch channel
.
Ad blocker interference detected!
Wikia is a free-to-use site that makes money from advertising. We have a modified experience for viewers using ad blockers

Wikia is not accessible if you've made further modifications. Remove the custom ad blocker rule(s) and the page will load as expected.