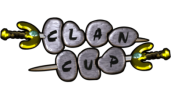 Clan Cup: Registration Now Open
Registration for the Clan Cup is now OPEN! To register your clan, your clan leader must both post a reply to the Clan Cup Leader Confirmation thread and fill out the form found here.
Please note: On November 18th some changes were made to the available PvP cups and some rules. Please see the revised developer blog before applying to the Clan Cup.
Registration will be closing at 23:59 on Sunday 29th November with the first match ups being announced on Monday 30th November. Late applications will not be accepted with no exceptions to be made. If your clan has not applied by the closing time your clan will not be participating.
More specific information will be coming next week in regards to the events taking place throughout the cup. Keep an eye out!
Mods Alfred, Archie, Ash, Ghost, Ian, John C, Kieren, Mat K, Maz, Ronan, Weath
The Old School team
Ad blocker interference detected!
Wikia is a free-to-use site that makes money from advertising. We have a modified experience for viewers using ad blockers

Wikia is not accessible if you've made further modifications. Remove the custom ad blocker rule(s) and the page will load as expected.