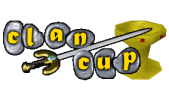 For all those taking part in the Clan Cup, head over to our forums to see who you will be up against in the Quarter Finals.
If you are a clan leader and you haven't had your account activated to get access to the Clan Battle Arena, meet Mod Mat K from 7pm BST this Friday on World 333 upstairs in the building north of Edgeville bank. He will then activate your account.
Ad blocker interference detected!
Wikia is a free-to-use site that makes money from advertising. We have a modified experience for viewers using ad blockers

Wikia is not accessible if you've made further modifications. Remove the custom ad blocker rule(s) and the page will load as expected.