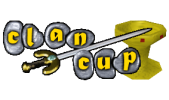 The winners of the clan cup have been decided.
Reign of Terror swept the board becoming the F2P & P2P capped champions, P2P all-out champions and the P2P team champions. Damage Incorporated held their own to become the F2P all-out champions.
The rivalry between Mayhem Makers and Fatality was so fierce that they weren't able to fight this weekend and the P2P and F2P pure cup finals will be held next week. The same can be said of the rivalry between Reign of Terror and Violent Resolution as they will holding the F2P team cup final next weekend too.
To discuss the clan cup and for information about the finals next week, go
here
.
Ad blocker interference detected!
Wikia is a free-to-use site that makes money from advertising. We have a modified experience for viewers using ad blockers

Wikia is not accessible if you've made further modifications. Remove the custom ad blocker rule(s) and the page will load as expected.