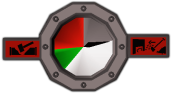 Content Poll 14 is now available for you to vote in. Log into the website and visit the poll module to have your say.
Content Poll 14 contains multiple questions to benefit minigames, such as a match making system, new reward shop and changes to individual minigames. There are also many other quality of life questions, included making the Zamorakian Spear into a one handed Zamorakian Hasta.
Vote now!
Ad blocker interference detected!
Wikia is a free-to-use site that makes money from advertising. We have a modified experience for viewers using ad blockers

Wikia is not accessible if you've made further modifications. Remove the custom ad blocker rule(s) and the page will load as expected.