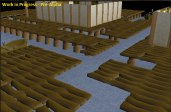 The new Continent, what is it?
A developer blog has just gone up that will help give you some insight. This is your chance to learn about Civitas illa fortis, Port Roberts and the Colosseum. You can even help craft the new continent by submitting your ideas for content to fill it up, or even by naming it.
Head over to the developer blog and take a look.
Read it here.
Mods Alfred, Ash, John C, Mat K, Reach, Ronan & Weath
The Old School Team
Ad blocker interference detected!
Wikia is a free-to-use site that makes money from advertising. We have a modified experience for viewers using ad blockers

Wikia is not accessible if you've made further modifications. Remove the custom ad blocker rule(s) and the page will load as expected.