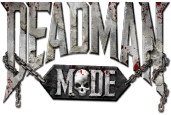 Deadman Autumn Season
The Deadman Autumn Season, which is the sixth seasonal iteration of Deadman Mode, has now begun!
Nowhere is safe. No one can be trusted.
All you need to do to play is ensure you have active membership and you've familiarised yourself with the new season changes.
Take on the challenge of Deadman Mode by logging into one of the following worlds:
400
401
402
403
405
406
407
408
409
410
411
The season will be ending with the game update on Thursday 27th July, so be sure to get into the top 2,000 Deadmen if you want a shot at $20,000 in the Deadman Autumn Invitational which is going to be hosted at RuneFest 2017.

If you have any questions about the season then feel free to ask them on our forums.
Mods Archie, Ash, Ed, Ghost, Jed, John C, Kieren, Mat K, Maz, Ronan, Roq, Ry, Stone, Sween, TomH, Weath, West & Wolf
The Old School Team
Ad blocker interference detected!
Wikia is a free-to-use site that makes money from advertising. We have a modified experience for viewers using ad blockers

Wikia is not accessible if you've made further modifications. Remove the custom ad blocker rule(s) and the page will load as expected.