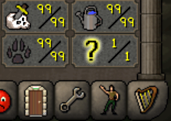 It's time to have another Player Designed Content competition, and this time we have probably the biggest piece of content you could ever design… a new skill.
So, how do you design a new skill? The first thing to think about is originality, the community would love to see something unique and really special. Forget about Summoning, Divination or Sailing - be completely original.
You also must think about how the new skill complements existing skills. Many skills rely on other skills to help you level them as well as help you level other skills.
Finally, make sure the method of levelling the new skill is fun, you really want players to get engaged with the skill.
When you have designed your skill, submit it to oldschoolcommunity@jagex.com. You can send it in any format, whether a word document, slideshow, presentation or video. The closing date for entries is 23:59 BST on the 17th May.
When you submit the design to us you must think about how it is presented, you really need to sell your skill as what you send us will be put in front of the community who will decide its future. Make sure your pitch to the community is as good as it can be!
On the 21st May we will release a developer blog with the shortlist of entries that you will be voting on. You will be able to vote for your favourite skill.
Once you have decided on your favourite design for the new skill, we will create a design document which will give you all of the details of the new skill. This will then be polled to you on the 18th June. In order to make it into game, the new skill will need to reach 75% in the poll.
Good luck to everyone!
To discuss this competition visit the forums.
Mods Alfred, Ash, John C, Mat K, Reach and Weath
The Old School RuneScape Team
Ad blocker interference detected!
Wikia is a free-to-use site that makes money from advertising. We have a modified experience for viewers using ad blockers

Wikia is not accessible if you've made further modifications. Remove the custom ad blocker rule(s) and the page will load as expected.