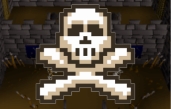 A follow-up developer blog for Bounty Hunter can now be found on the forums and would be well worth giving a thorough read.
If you're someone that enjoys anything that takes part in the wilderness or PvP worlds make sure you check it out and let us know what you think.
Also, don't miss the community stream tonight at 9pm BST over at Twitch! Mod Ronan will be killing 1,000 K'ril Tsutsaroth for your viewing pleasure (and morbid curiosity)!
Mods Alfred, Ash, John C, Mat K, Reach, Ronan & Weath
The Old School Team
Ad blocker interference detected!
Wikia is a free-to-use site that makes money from advertising. We have a modified experience for viewers using ad blockers

Wikia is not accessible if you've made further modifications. Remove the custom ad blocker rule(s) and the page will load as expected.