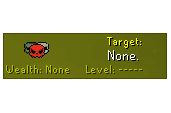 Since the last Dev Blog, we've been inundated with suggestions, questions and feedback surrounding our proposed rewards for using the Bounty Hunter Target system.
The feedback has been great. We've received some very valuable insight and suggestions that we've since collated, worked through and huddled together in preparation for another proposal.
Make sure to head over to the forums to read the Bounty Hunter rewards part 2 developer blog.
Mods Alfred, Ash, John C, Mat K, Reach, Ronan & Weath
The Old School Team
Ad blocker interference detected!
Wikia is a free-to-use site that makes money from advertising. We have a modified experience for viewers using ad blockers

Wikia is not accessible if you've made further modifications. Remove the custom ad blocker rule(s) and the page will load as expected.