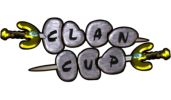 The Clan Cup is here! With registration opening on Monday and the competition starting on December 4th, we would like to fill you in on all of the details of the Clan Cup 2015.
Be sure to head over to the forums to take a look at the Clan Cup 2015 dev blog!
Mods Alfred, Archie, Ash, Ghost, Ian, John C, Kieren, Mat K, Maz, Ronan, Weath
The Old School team
Ad blocker interference detected!
Wikia is a free-to-use site that makes money from advertising. We have a modified experience for viewers using ad blockers

Wikia is not accessible if you've made further modifications. Remove the custom ad blocker rule(s) and the page will load as expected.