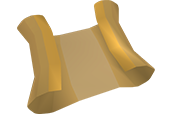 With the last expansion to clue scrolls having taken place back two years ago, we would like to give treasure trails another look.
Treasure trails are an amazing way to get a break from the daily grind mixed in with the excitement of potentially getting a huge reward. We'd like to make this bigger and better with an expansion to clue scrolls!
Head over to the forums and read the clue scroll expansion dev blog!
Mods Archie, Ash, Ghost, Ian, Jed, John C, Kieren, Mat K, Maz, Ronan, WeathThe Old School Team
Ad blocker interference detected!
Wikia is a free-to-use site that makes money from advertising. We have a modified experience for viewers using ad blockers

Wikia is not accessible if you've made further modifications. Remove the custom ad blocker rule(s) and the page will load as expected.